Construction News Summit
Don't miss the most important event of the year for the construction industry's leaders.
The Construction News Summit, now in its eight year, brings together leading industry figures from public and private sectors clients to main contractors and their supply chain, to discuss how to create a more resilient industry and supply chain in these challenging times.
This year's event will focus on what impact Covid-19 is having for businesses and the way the construction industry operates, as well as exploring the projects opportunities ahead in the next three years.
In these challenging times it is critical to have the latest insight and guidance from those at the top of the industry and who will drive future projects forward.
WHAT'S ON
Programme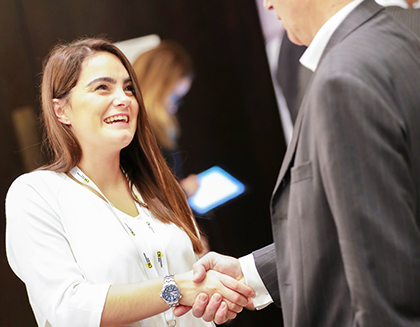 Explore the topics and themes that will be covered this year and see what you can take away from the day.
Features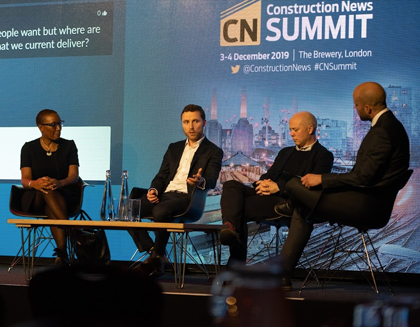 The Summit is packed with interactive features that you can get benefit from, find out more.
Speakers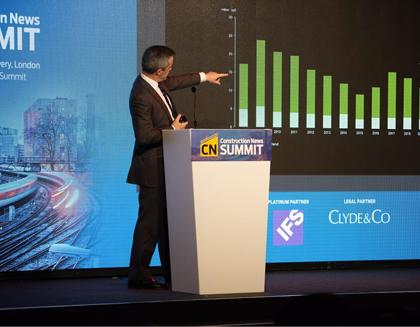 Find out who will be speaking this year and delivering the exciting agenda for this prestiogious event.
Take a look at the highlights from last year's summit
Countdown to the CN Summit
Sponsorship Opportunities
CN Summit is an exciting learning and networking event which brings together decision makers from across the supply chain to share best practice and explore how they can better design and deliver future projects.
Why you should be involved:
Lead the conversation and network with clients, contractors, consultants, suppliers and manufacturers as the industry looks to become more efficient
Hear from the industry leaders about what they are looking for from those involved in the design process and the role of innovation and technology.
Position your business as a thought leader and meet those managing complex projects.
To discuss partnership opportunities, please contact Francis Barham on 020 3953 2912 or email francis.barham@emap.com